vol. 1 issue 12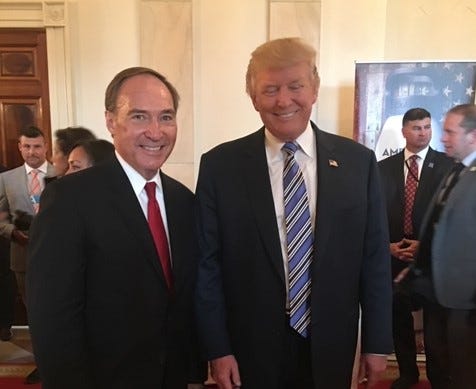 POTUS 45 with Kelly Johnston, former Secretary of the Senate appointed by former Senate Majority Leader, Bob Dole.
Photo: courtesy of Kelly Johnston

Greetings,
Air conditioning, Newt Gingrich's naked ambition, and especially post-Watergate rules that created a power vacuum special interests rushed to fill. All that, plus the never-ending, high stakes fundraising that takes a third of our federal lawmakers' time, are among the key ingredients in the special brew that has poisoned relationships in Congress.
That's according to Kelly Johnston, former Secretary of the Senate under the Republican majority leader, Bob Dole. Johnston is my guest on this episode of Washington Remembers, presented by docu-mental.
Johnston should know. He just retired from more than 40 years of service on Capital Hill, where he has enjoyed a stellar reputation for civility, collaborating with members of both parties on a variety of initiatives across several administrations. Before working in government affairs for the processed food industry, Johnston, a conservative Republican and Oklahoma native, spent a quarter of a century working in various leadership capacities for members of either the legislative or executive branches.
One of these roles was as former Republican Senate Majority Leader Bob Dole's secretary of the Senate. In all, Johnston's perspective, which reaches back to the Jimmy Carter era, is helpful if we are to understand—and move beyond—Washington's current level of incivility.
I first met Johnston years ago, around 2004-ish, through a local chamber of commerce in southern New Jersey. I ran a small healthcare-oriented communications shop and he had just began his role as head of government affairs for the Campbell Soup Company, a local employer in the region. Over the years, I have come to consider him a wise counselor who tells it like it is, but with mercy.
Johnston says incivility in Congress is nothing new, but it has manifested in different ways throughout our nation's history. "Leaders from both parties have always struggled with how to make their parties get along," he says, listing the ways: Civility retreats at amusement parks, family dinners, outside organizations that mediate behind the scenes, and other vehicles for niceness.
But Congress's greatest civility tool of all, is time lawmakers spend getting to know one another informally, Johnston says. It's something that can only happen when more voters realize that legislators really only do what they're told. And right now, regular you-and-me voters do not direct Congress, powerful special interest groups do.
A couple of months ago, I posted a brief interview I had with Democratic House Oversight Committee Chairman Elijah Cummings (Md.), a member of both the Progressive and Black Congressional caucuses, about his friendship with Freedom Caucus and staunch POTUS 45 supporter, Mark Meadows (R., NC), much to the surprise of many.
Johnston explains why this kind of friendship was once the norm, and shares why there must be more alliances like the one between Cummings and Meadows if Congress is to become more effective and less nasty. Best of all, Johnston details how to make this happen.
Photo courtesy of Kelly Johnston

As for the division over POTUS45, Johnston says that's symptomatic of something deeper. He brings it back once again to the special interest groups that turn Americans against one another and which have risen to power thanks to post-Watergate ethics legislation that created a vacuum that these non-elected entities were eager to fill.
"Only when we diminish special interest money and let the primary fundraising be done by parties will we have a chance of civility returning," he says. "It bothers me that somebody can come in and write a million dollar check and destroy somebody's campaign or get somebody elected."
And it's not just outside interest groups battling for dominance, according to Johnston. Internecine wars between groups like the Freedom Caucus and the rest of the Republican party, or the Progressive Caucus and the Democratic party are also turning things into an all-or-nothing match.
As for the president's own notable rudeness, Johnston believes it is a symbol of the incivility that existed already and that no one has stepped in to act like an adult to overcome the president's own "immaturity."
Also in this interview: Johnston shares historical tales of murder and bludgeoning on Capitol Hill, we discuss the similarities between disruptors like former Republican Congressman Newt Gingrich and Democratic Congresswoman Alexandria Ocasio-Cortez, and we debate whether Johnston's friend, Senate Majority Leader Mitch McConnell, is doing enough to tone it down on the Hill.
We end with Johnston looking ahead to 2020 and offering a few rays of hope that civility is possible, noting that some in Washington are quietly working behind the scenes to make everyone play nice, and that most lawmakers really do mean well.
It's a great listen, and goes to the heart of what docu-mental is about: thinking for yourself, not according to doctrine.
I hope you enjoy this podcast as you head into your holiday week.
We're going on vacation here at docu-mental, but we'll still be publishing. No more podcasts until later this summer, however.
Stay out of trouble,
Whitney
PS: Sorry about the president's eyes being closed. Can't do anything about that.