Keeping correct time:
The Lakota Music Project gives unexpected lesson in togetherness
vol. 1 issue 37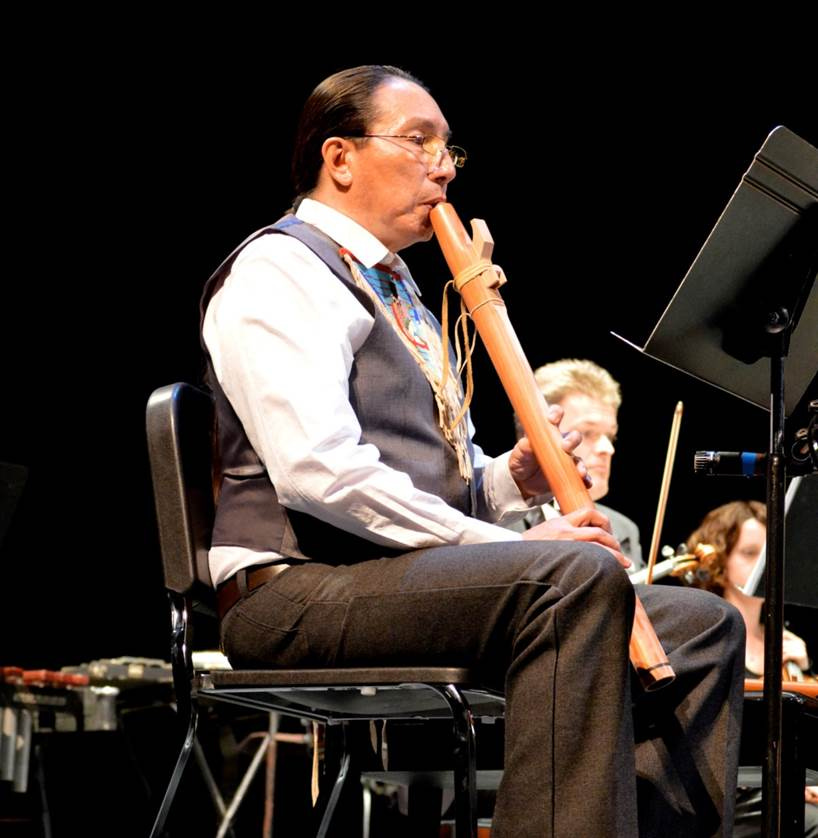 Greetings,
Once, while driving at dusk through the Navajo Nation, just north of Monument Valley, my traveling companion and I came upon a road sign saying we were 22 miles from Mexican Hat, a tiny dot of a place on the border of the portion of the reservation that lies within Utah. Once there, we could find our way to our destination further south, in Arizona. Reassured, we kept on the route.
After what we thought was another 20 miles later, we saw a sign that told us Mexican Hat was 22 miles away. We panicked. Had the miles on the road sign just been a mistake, or had we gone in a circle?
Though unsure, we stayed on that road, keeping the red canyon ridge to our left in the distance. About 20 minutes later, we passed through Mexican Hat, and continued on until we reached our intended destination.
Earlier during that same trip, we discovered that even though both Arizona and the Navajo Nation fall within the mountain time zone, on the reservation one observes daylight savings time, whereas in Arizona, one does not. Since much of the Nation actually sits within the Arizona state line, I was never sure what time it was. Checking my phone was pointless; I could not get a signal.
While stopped at the Cameron Trading Post, just north of Flagstaff but within the Nation, I asked a Navajo woman what time it was. She didn't know.
She wanted to be of service, so she asked a younger co-worker at the store. He didn't know. She asked another. He didn't know. He didn't wear a watch. She asked a third person, a handsome elderly Navajo man in Wranglers and boots. He wore a thick gray-black braid down his back, topped with a cowboy hat. He did wear a watch. He looked at it then said we should split the difference between Arizona time and Navajo time since that would be as good a time as any. According to that logic, it was 1:30 in the afternoon.
The woman asked me earnestly if that answered my question.
I told her yes.
Indigenous Americans live in a different space/time continuum than "gringo" Americans do. This is largely because they typically see, feel, and believe themselves to be of the earth, not living on this earth.
As a result, American Indians don't measure time the same way we other Americans do. They simply flow with it because they are "it." Just keep going straight with the ridge to the east and you will get where you need to go. Or, so goes the thinking that is less thought, more "knowing."
I thought of that visit to the Navajo Nation recently while attending a concert.
I regularly review classical and contemporary music for an online publication, and because of my knowledge about and interest in American Indians, as they tend to prefer being called instead of the term "natives", I had been asked to preview the upcoming debut of the Lakota Music Project to Washington audiences. The project is a collaboration between the South Dakota Symphony Orchestra under the artistic direction of Delta David Gier, and members of different bands from the Sioux Nation, primarily the Lakota.
Shortly after taking the helm of the SDSO, Gier — a white, urban East Coaster — spent two years on a "listening tour" of the Lakota people to ask them how they envisioned working together with Western classical musicians, if they wanted to at all.
Talking with Gier, I did not doubt his love and respect for the Lakota among his constituents as the conductor of their local community's orchestra, even if the Lakota hadn't thought of his orchestra as their own until he asked them to at least consider it.
You can read more about what happened in my piece here. In it, I ask readers to consider the differences between culturally appropriate and cultural appropriation.
Symphonic musicians must learn to count as one in order to "keep time". The Lakota, like other indigenous drummers, singers, and cedar flutists, do not count, nor do they read music. They sing and play as they are moved to do: Keep the canyon to the east, and follow the line. You will get where you need to go.
That kind of thing.
In their final concert of several while in residence here in Washington, the Lakota Music Project performed a mixture of indigenous and Western works including a virtually unheard of composition from the American Indianist Movement of the early 20th Century. The piece was well-wrought and lovingly performed by members of the SDSO string section.
Preceding the performance was a mini-lecture on the importance of listening to indigenous music. The discourse was given by the evening's host, a gringo scholar who is well-known for championing indigenous music in the United States.
After the performance , our host announced it was intermission. People got up, milled around. As they did, the host also introduced cedar flutist Bryan Akipa (Dakota). Akipa appeared in his native dress and began to describe the work he had in store. Then he began to play.
Audience members were unsure what to do. Akipa's appearance wasn't explicitly listed in the program notes, but presumably, he was a featured musician, given that he had traveled all the way from South Dakota, and given that he was actually a Sioux. Concert-goers who'd left their seats froze where they were, blocking the views of those who'd stayed seated. People who didn't know any better kept talking. Others shushed them.
An uneasy truce was reached between those who thought they were free to roam and those who'd stayed put, and all listened as Akipa played his haunting, birds-of-prey-like sounds, sounds of a westward wind through a stand of trees, or through tall grass on a vast plain.
His performance was both arresting and soothing.
I noted he did not smile during the successive shower of applause.
People reclaimed their seats and things got back on track. Or so it seemed.
Next was a work by another composer and scholar of indigenous Americans. He launched into an extemporaneous discussion of the more than 160 menses rituals of the southern Plains Indians.
He talked and talked, even after he'd made his point, I guess, but after a while, I wondered if it was now a lecture, not a concert. Like on the road to Mexican Hat, I wondered if we had missed a turn.
And why was he talking so much about menstrual cycles?
Had he lost track of time, or had he forgotten his place?
At last, we heard the piece. A fantasy, theme and variations on a specific menses ritual. It was by turns intriguing and pretty, but it was too long. The point had been made in the fantasy, not the multiple iterations of it.
We'd been made to sit through an act of self-indulgence and now time was running out: There was only time left for three of the four works yet to be performed, all of which were written for and by members of the Lakota Music Project.
The audience learned this at the same time the featured solo performer of the final work did: as he was about to start singing, his mouth open, his breath drawn; the same moment the host thanked everyone for coming, reminding us of the lecture that was about to take place in another room, the topic of course being the importance of indigenous music.
I suspected I knew why the cedar flutist hadn't smiled.
The performer who'd been silenced, Emmanuel Black Bear (Lakota), is the keeper of the drum for his people on the Pine Ridge Reservation. He'd been about to sing and play a work written just for him and the chamber orchestra. After hearing the previous three novel works composed respectively for cedar flute and chamber orchestra, voice and chamber orchestra, and cedar flute and wind quintet, the audience was primed for more. They had responded eagerly to these pieces with names like Wind on Clear Lake, Guide Me, and Meadowlark, works that intermingled two peoples' concepts of keeping time, sometimes well, sometimes awkwardly, but always together.
Several in the audience cried out, "What about Amazing Grace?", referring to the title of the work that had been dropped.
No reply came. No formal explanation was ever given.
I skipped the lecture. I learned later that Black Bear walked out of the talk.
I reckon we both had had enough of a gringo standing at the center of the universe, directing our attention, as though we didn't already know how to keep the canyon to the east or follow the wind blowing in the direction we wanted to go: Home.
Whitney
(All writing and photos posted in docu-mental are copyright Whitney M. Fishburn, unless otherwise noted but please feel free to share. Photo credit for above photo of cedar flutist Bryan Akipa (Dakota) courtesy of The Lakota Music Project.)